TEBA-EABC Automotive Working Group meeting (End of the year advocacy wrap up)
November 8, 2018 @ 9:00 am

-

10:30 am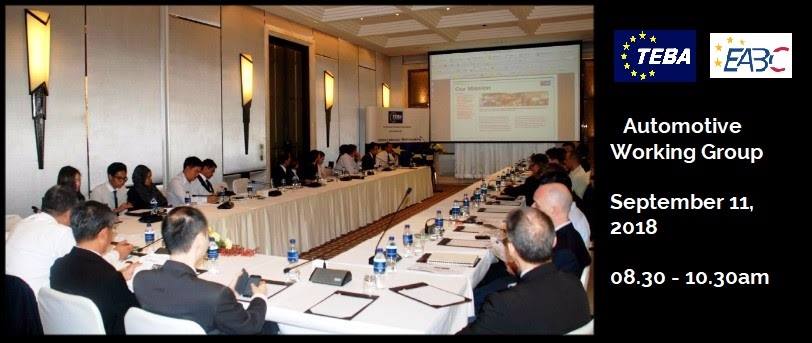 Dear TEBA members and friends,

The Automotive Working Group meeting will review the past TEBA-EABC Working Group minutes and the progress from then on in regards to past events and upcoming events. Topics that will be discussed will include our continuation of our Working group with the Dept. of Land Transport, the Thai Automotive Institute, and the Pollution Control Department.

The meeting will be held on Thursday, November 8th, 2018 from 09.00am – 10.30am at Continental.

Please see below for the agenda details and for any questions regarding content, kindly email marketing@thaieuro.biz or call 083 592 5658 and for registration issues or location, email pr@thaieuro.biz or call 092 249 8535.
Looking forward to seeing you there and sharing our thoughts with you.

With kind regards,
The TEBA Board

TEBA Automotive Working Group meeting
Date:  Thursday, November 8th, 2018
Time:  
Automotive Working group meeting: 09.00am – 10.30am
Location: 
Continental Automotive (Thailand) Co., Ltd.
16th Floor, G Tower, South Wing,
9 Rama 9, Huay kwang, Huay kwang, Bangkok, 10310
MRT Rama 9
[Google Maps]
Agenda
1) Review Meeting minutes of previous Automotive Committee meeting
2) Report on our collaboration with the Department of Land Transport (DLT), Thai Automotive Institute (TAI), and the Pollution Control Department (PCD) from our previous meetings with them
3) Discuss issues, recommendations, and further cooperation to meet with the Ministry of Industry (MOI)
4) Report on previous Industry Meetings
6) Review upcoming events for the end of this quarter
If you have any more questions or require any further assistance, please do not hesitate to contact us at pr@thaieuro.biz